I Wanted to Become What I Have Become
When Child Labour Kills Children's Dreams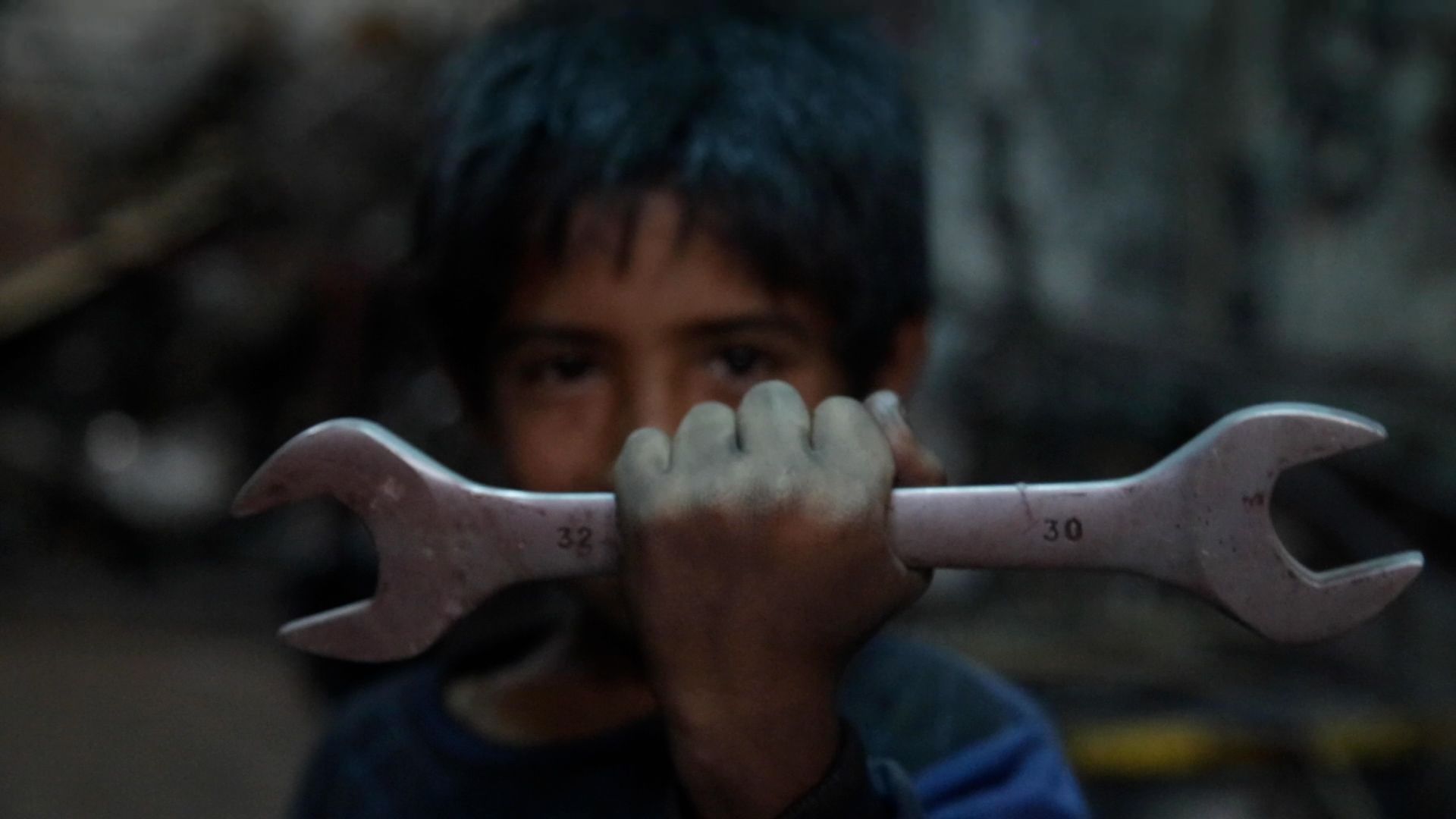 "What I wanted to be, and what I have become," are apparently two simple sentences of two different times to summarize how Syrian children's dreams were crushed to dust. The ongoing ravages of war and the harsh living conditions have crushed their dreams; whoever wanted to become a doctor found his face blackened with soot, and whoever wished to be a teacher now lives with fears of losing his tiny fingers while using a woodworking machine.

Day by day, those fading dreams become more distant. No wonder, when we know that many Syrian children have become their families' main breadwinners. As the sun rises in the sky, a child of those leaves his home, heading, not to school, but to a workplace where innocence is crushed and small hands become rough.
This article will highlight the stories of five children, each of them has a unique yet familiar story of child labour that provides them with a living and puts an end to a dream at the same time.
Mohammed:
Doctor to be, A car painter now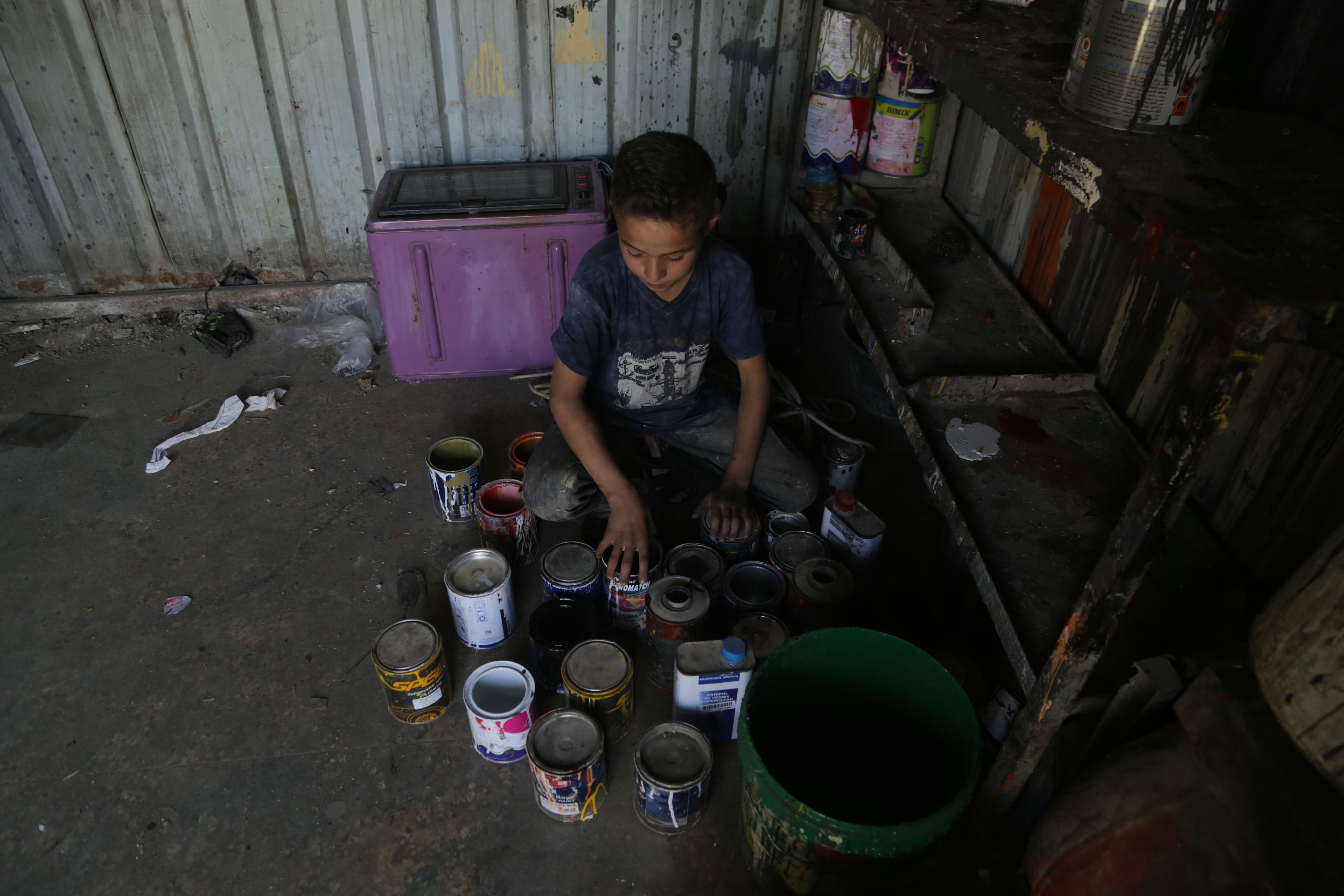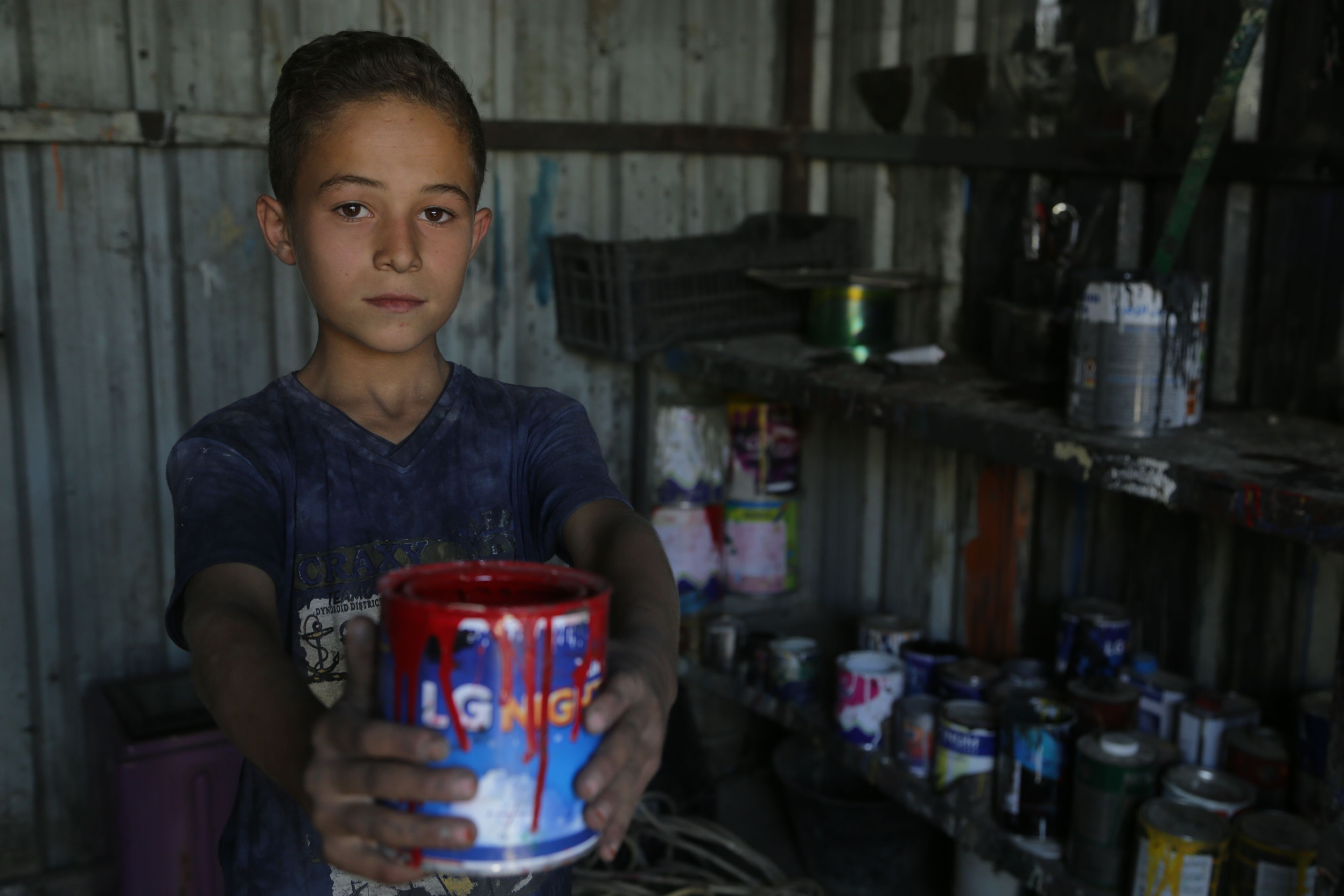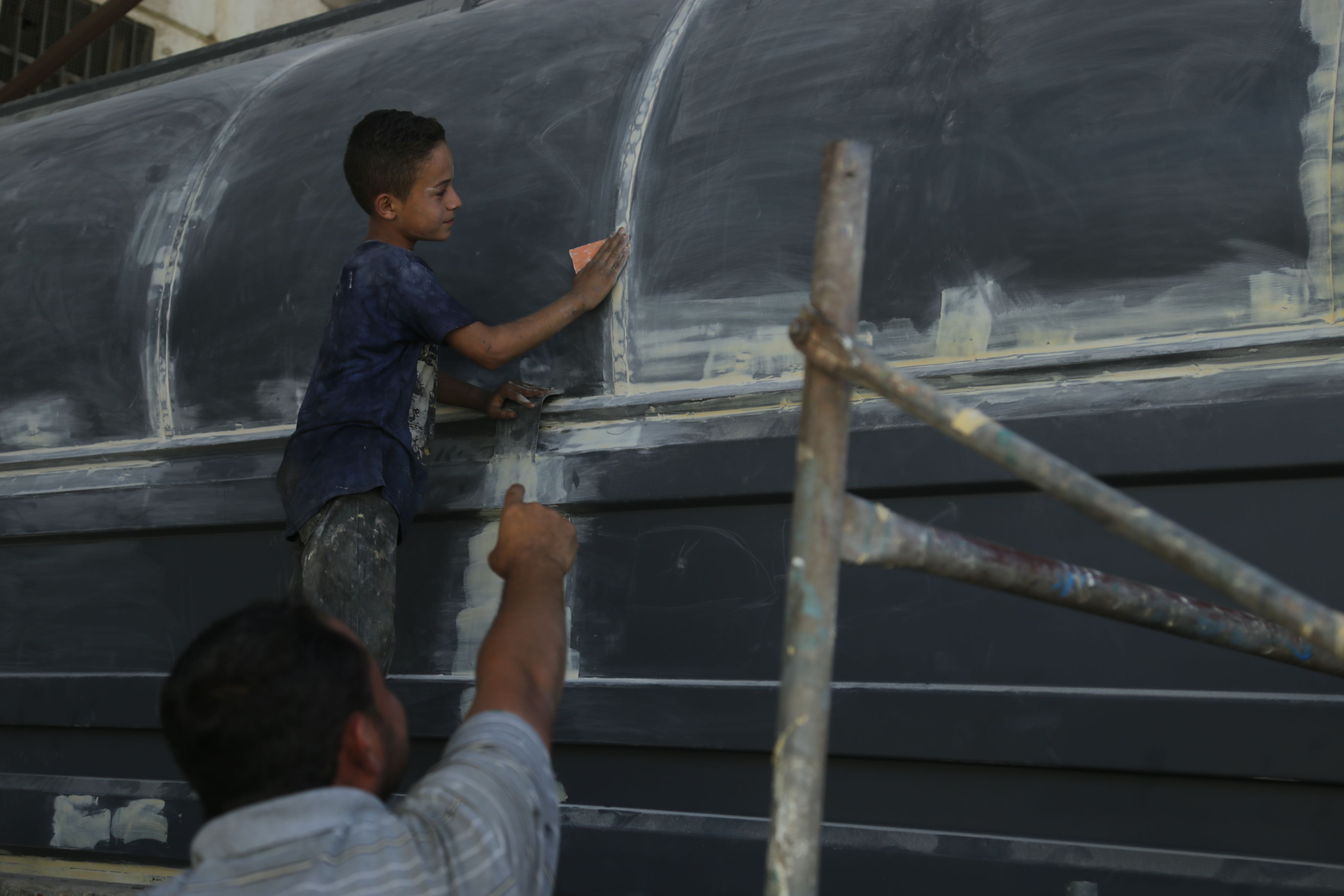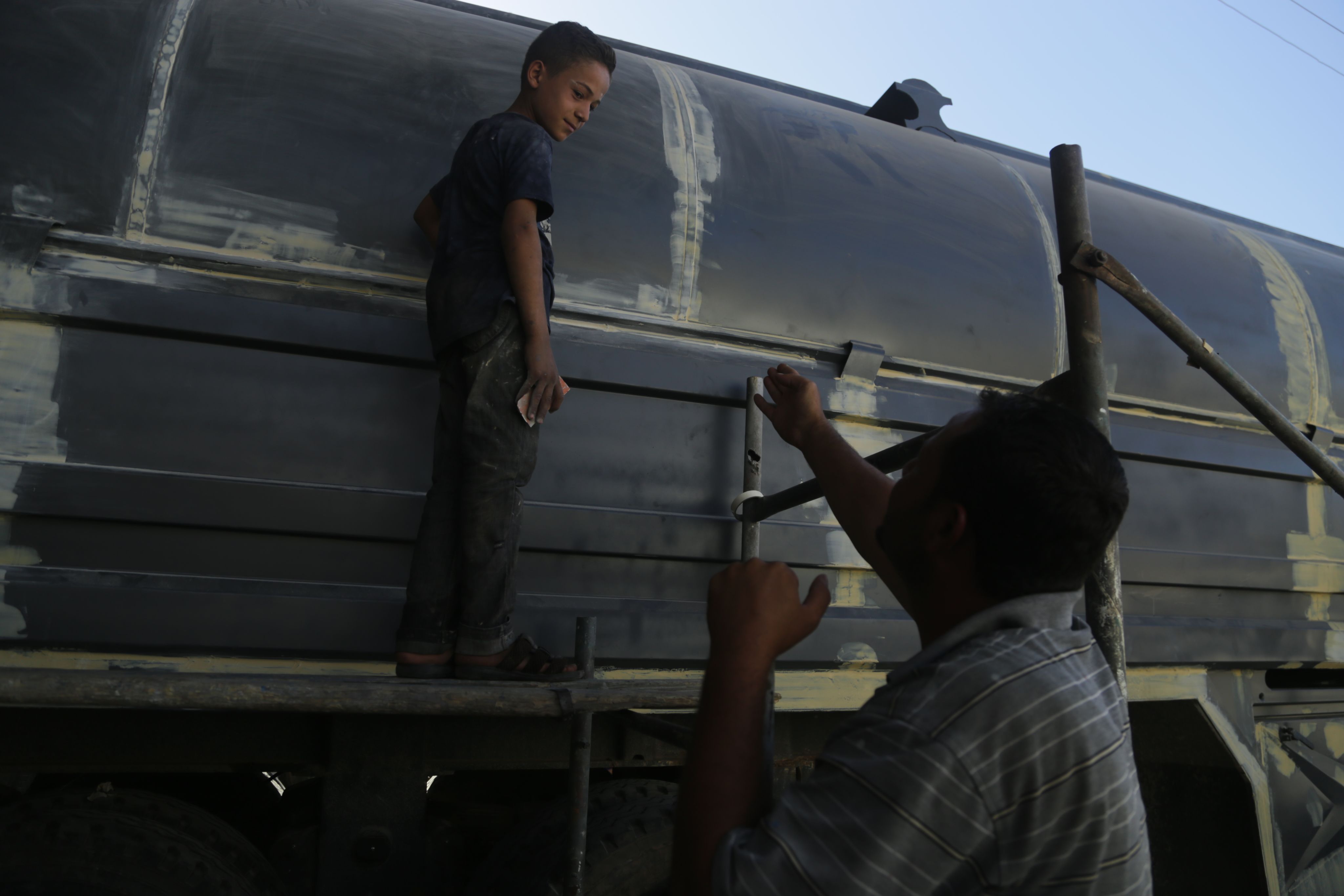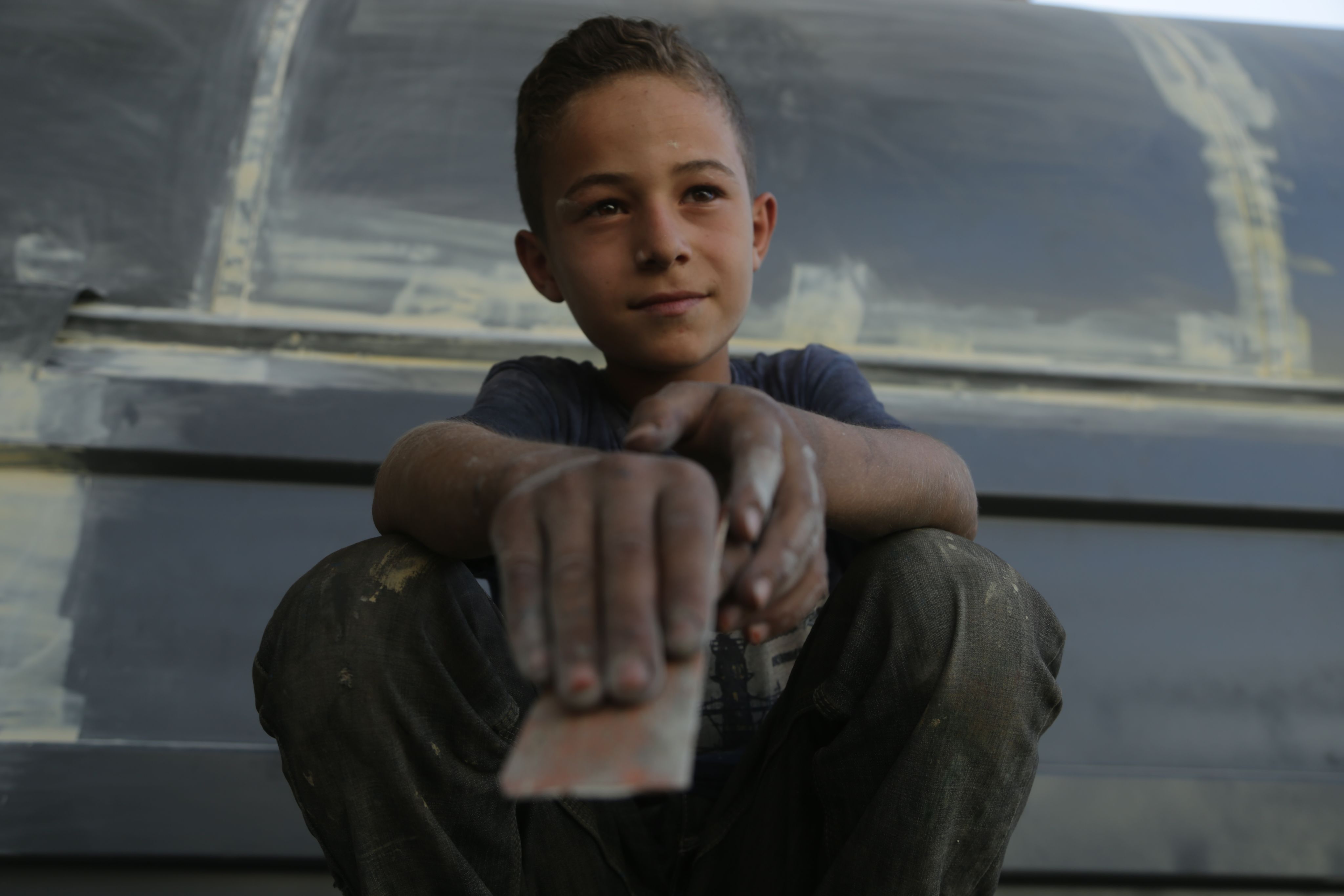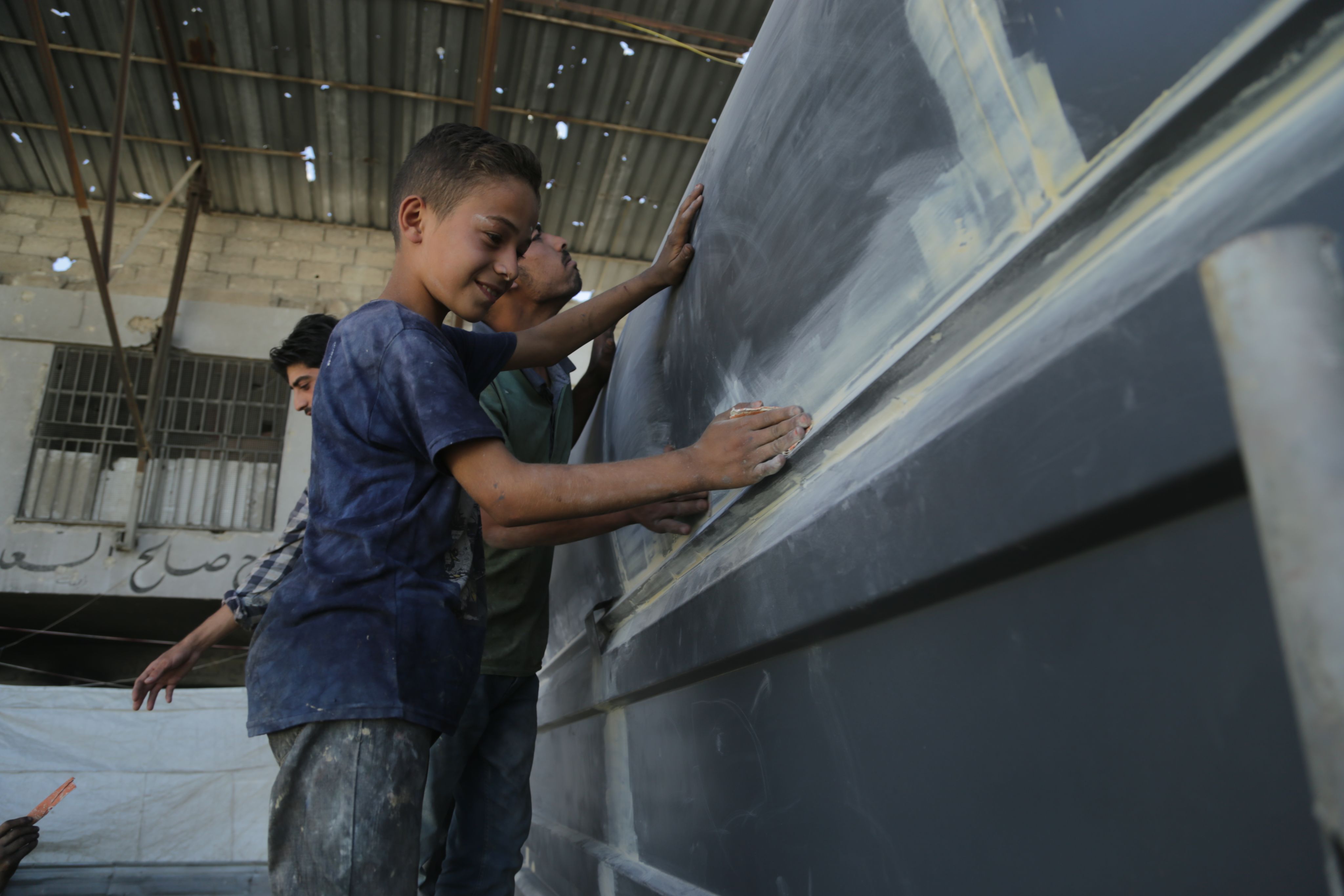 Mohammed, an 11-year-old boy from the city of al-Bab in Aleppo, had always dreamed of becoming a doctor in the future. A car painter now, it seems that even dreams were too much for him. His father did not send him to school because of the family's poor financial condition.
Mohammed has been working with his father since he was 6. Upon talking to him, he will not tell you about a beautiful story he read or the pets he saw their pictures in a book, he would rather tell you about the steps of painting a car.
With his hardly-recognizable slender body, he stands on a scaffolding board painting a huge tanke
Mohammed's sad eyes and rough fingers summarizes his lost dream: a car painter who wanted to become a doctor.
In northern Syria, where millions of local and displaced people live, including a huge number of children, some of whom live in run-down tent camps. Some try to defeat cold winter nights and hot summer days with their helpless tears. Others stay in destroyed buildings, sleeping on the dusty ground.
The harsh living conditions do not end there; many children lost their parents and became the main breadwinner to support the rest of the family. To achieve so, most of them had no other choice but to work as young as eight years old.
Even the luckier ones, who live with their parents, are not spared from working at an early age in order to support the family.
The figures revealed by the United Nations are of great concern, with "Nearly 2.45 million children in Syria and an additional 750,000 Syrian children in neighbouring countries are out of school; 40 percent of them are girls."
Moreover, four in five Syrians live below the poverty line, which pushes children to struggle to support their families to survive.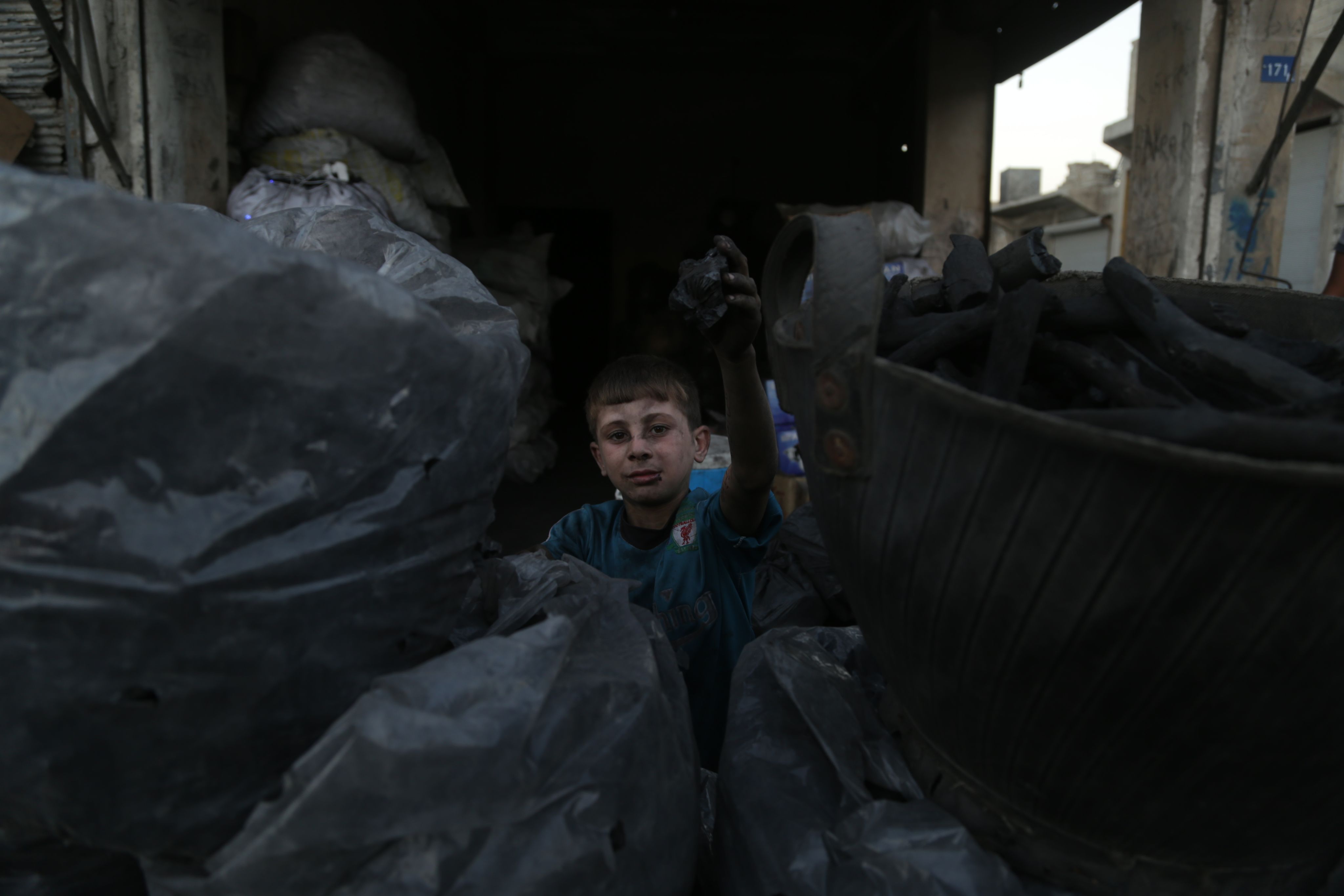 Similarly, ten-year-old Ahmed leads a similar harsh life. Surrounded by sacks of coal, you would see his innocent face covered with soot. Ahmed dreamed of becoming a doctor or a nurse. Now, he only dreams of opening a charcoal store.

With a penetrating look, Ahmed stares at the camera carrying a piece of coal, surrounded by sacks of coal, as if he wanted to tell the world that his life has turned as dark as the sacks he fills and sells to earn a living.
Mohammad, Ahmed, and their peers who live in similar conditions are only a small part of the 90 percent of Syria's children who are in need of humanitarian aid in 2021. This figure has jumped up by 20 percent compared to last year alone, says the United Nations Children's Fund (UNICEF).
The danger of child labor is not only about ending those children's dreams, many professions physically harm them at such an early age.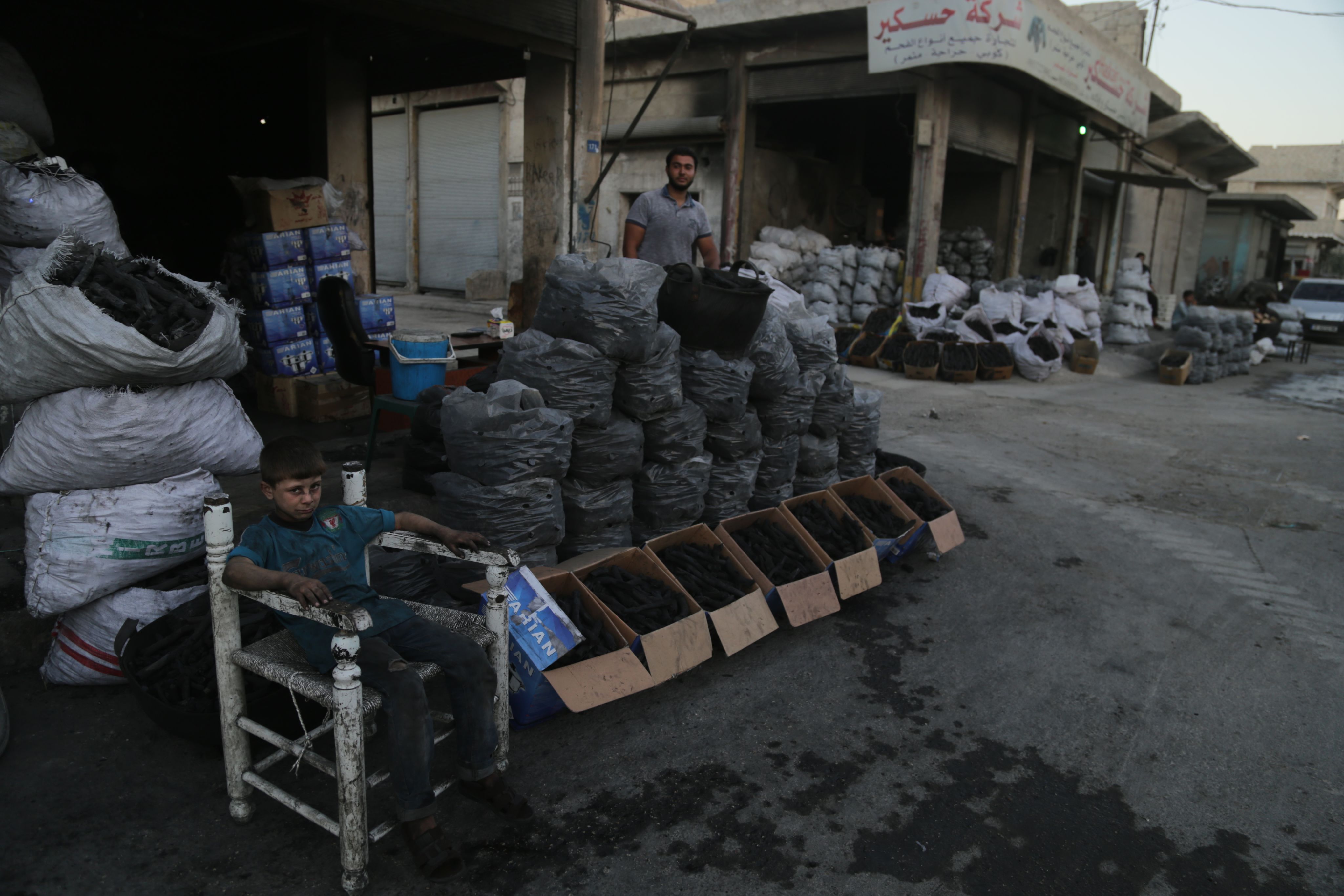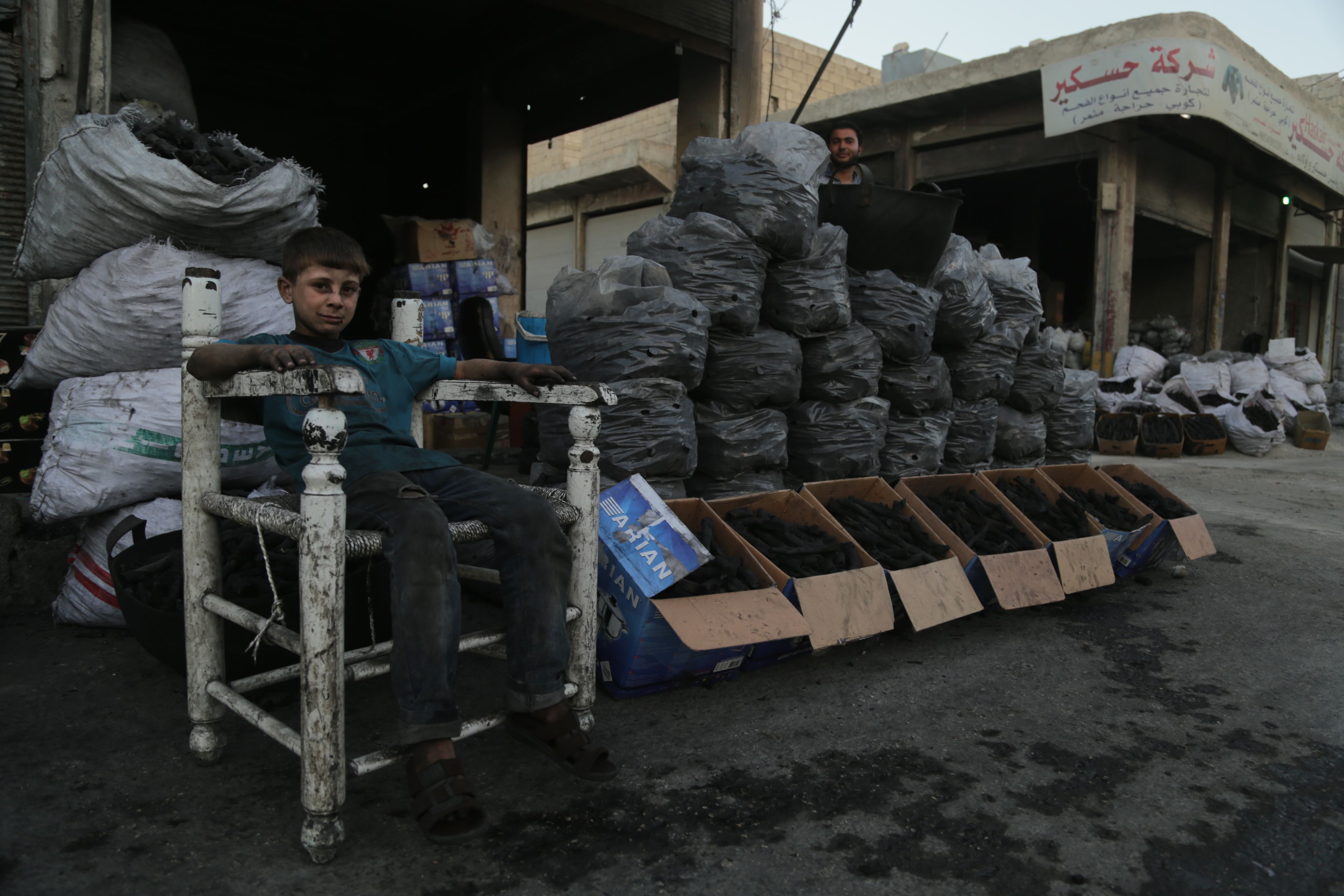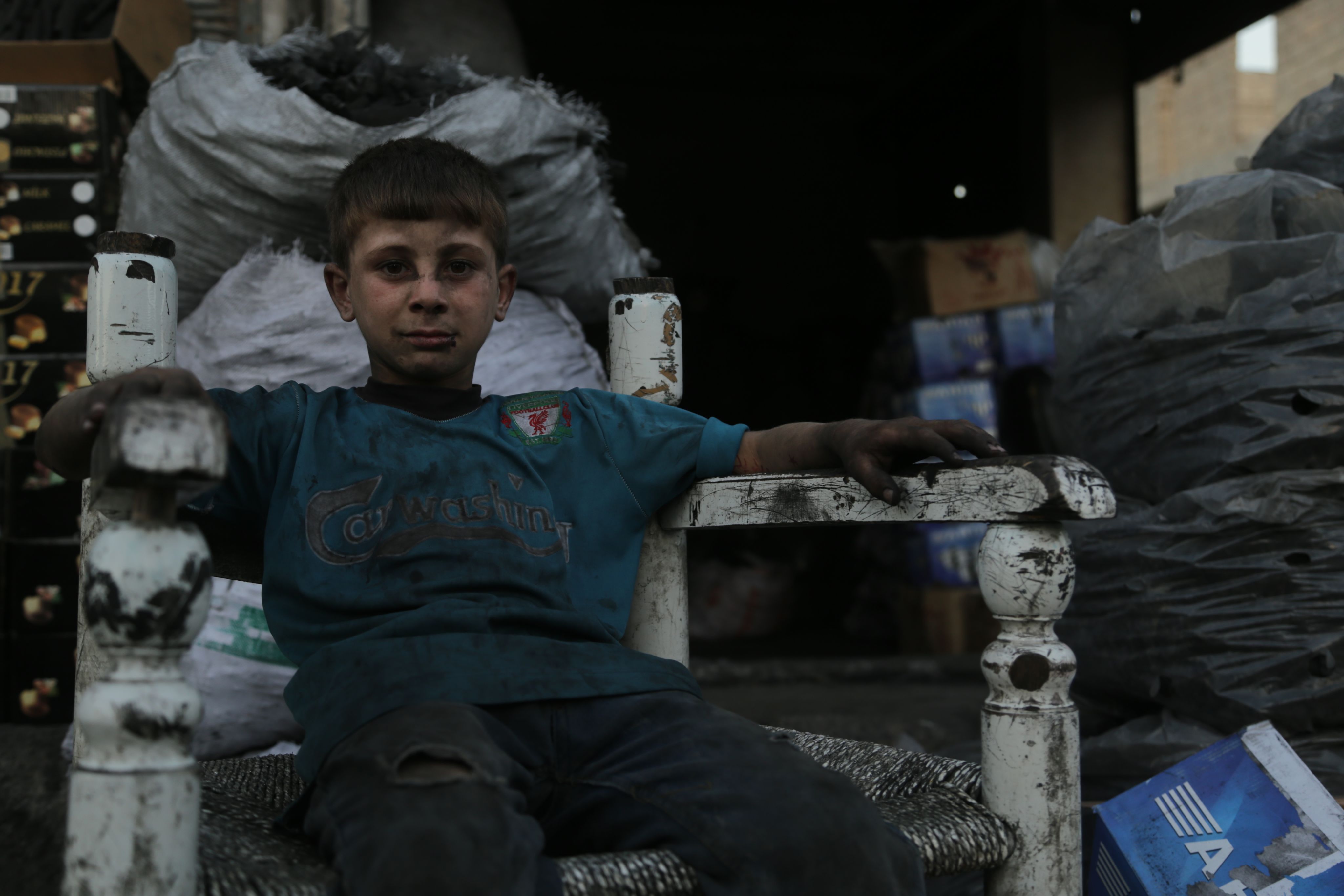 Mohammed:
Veterinarian to be, Now: the diesel seller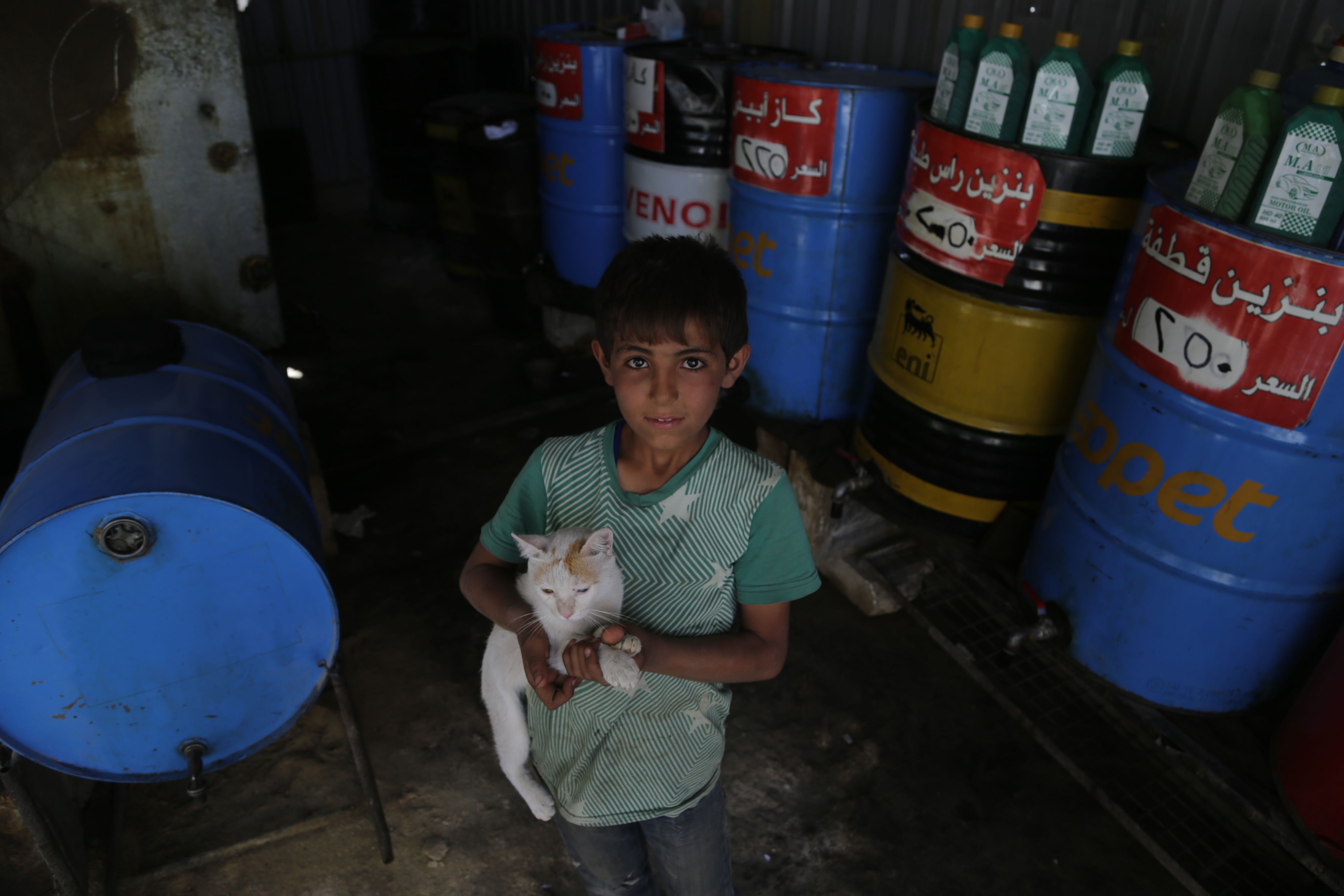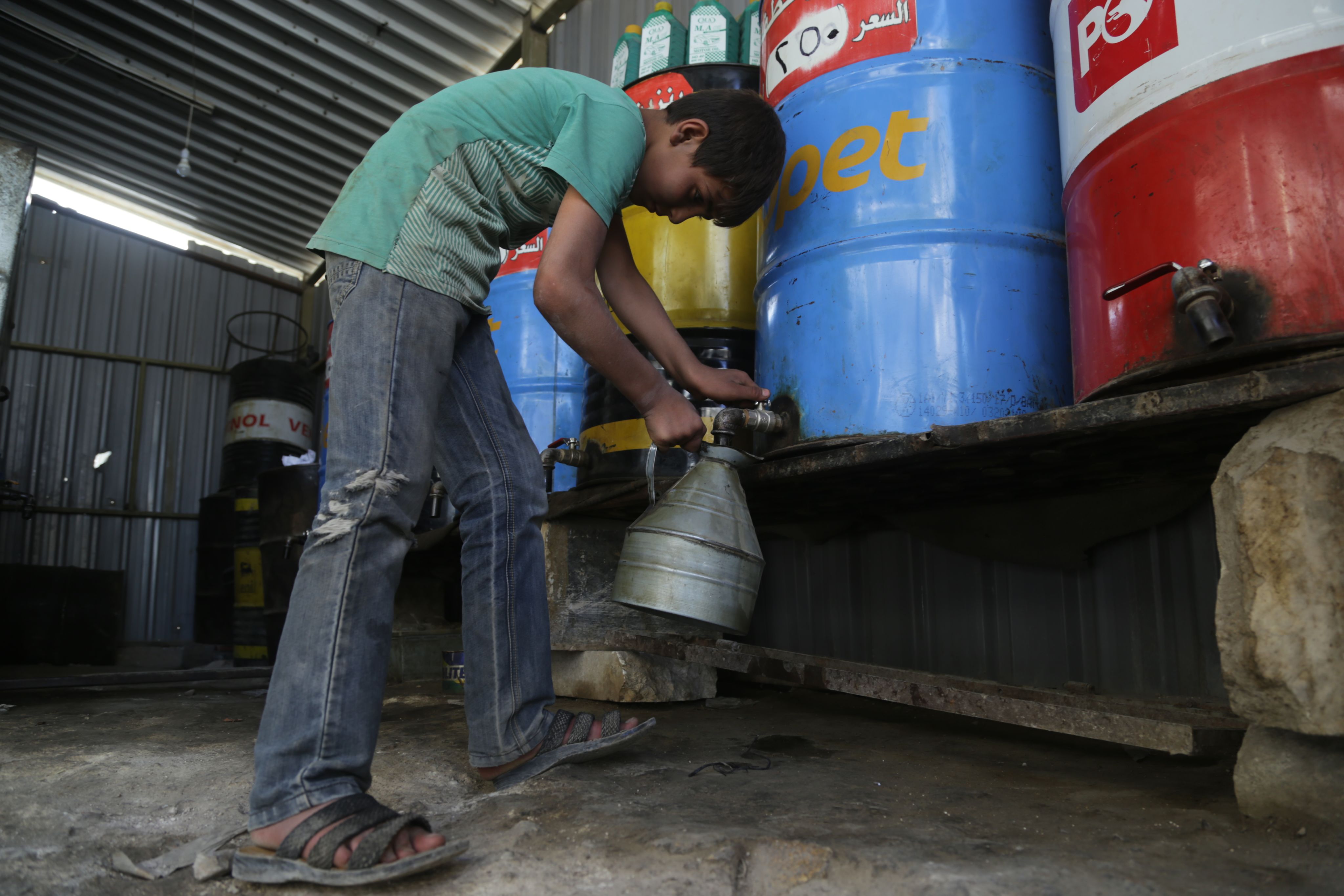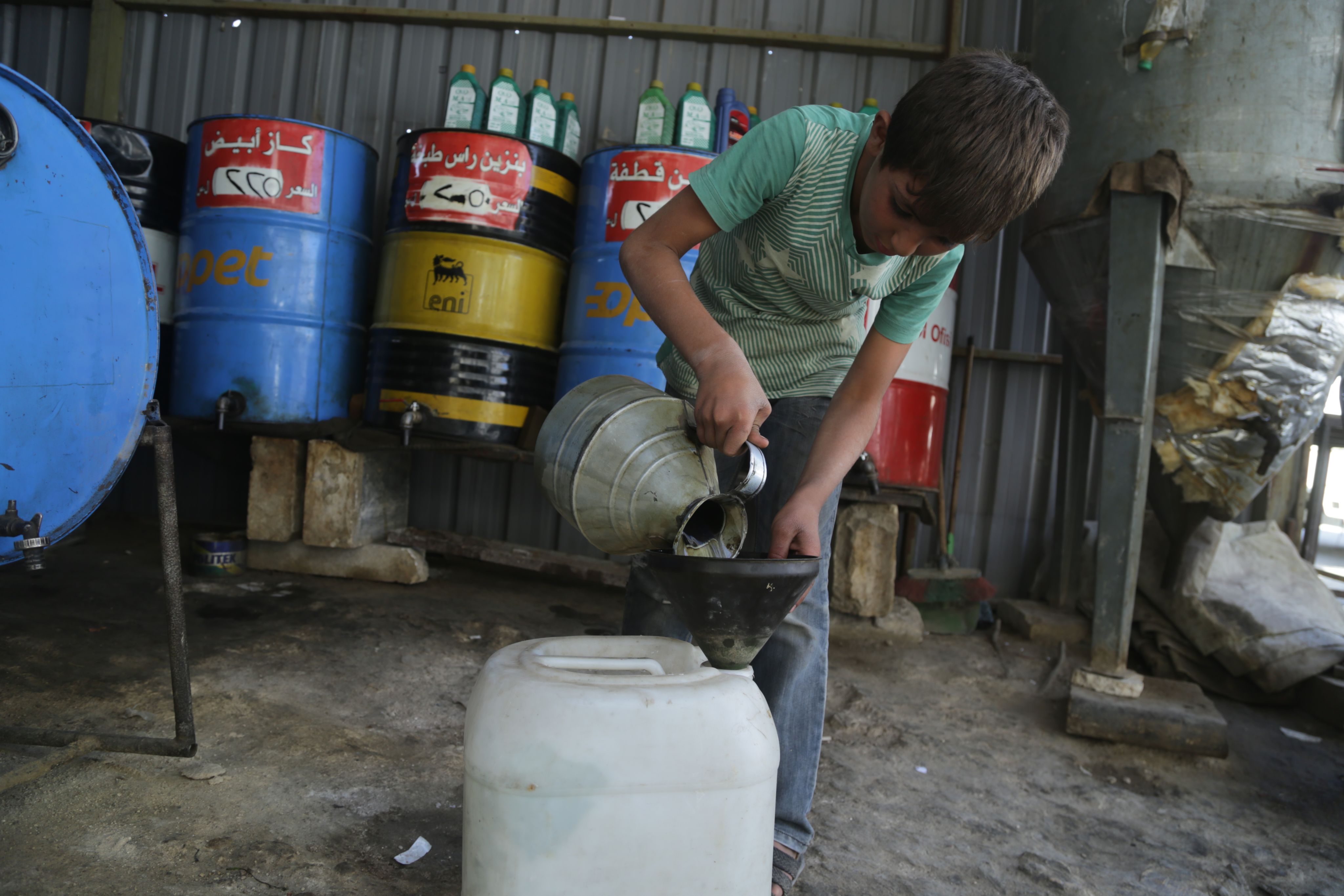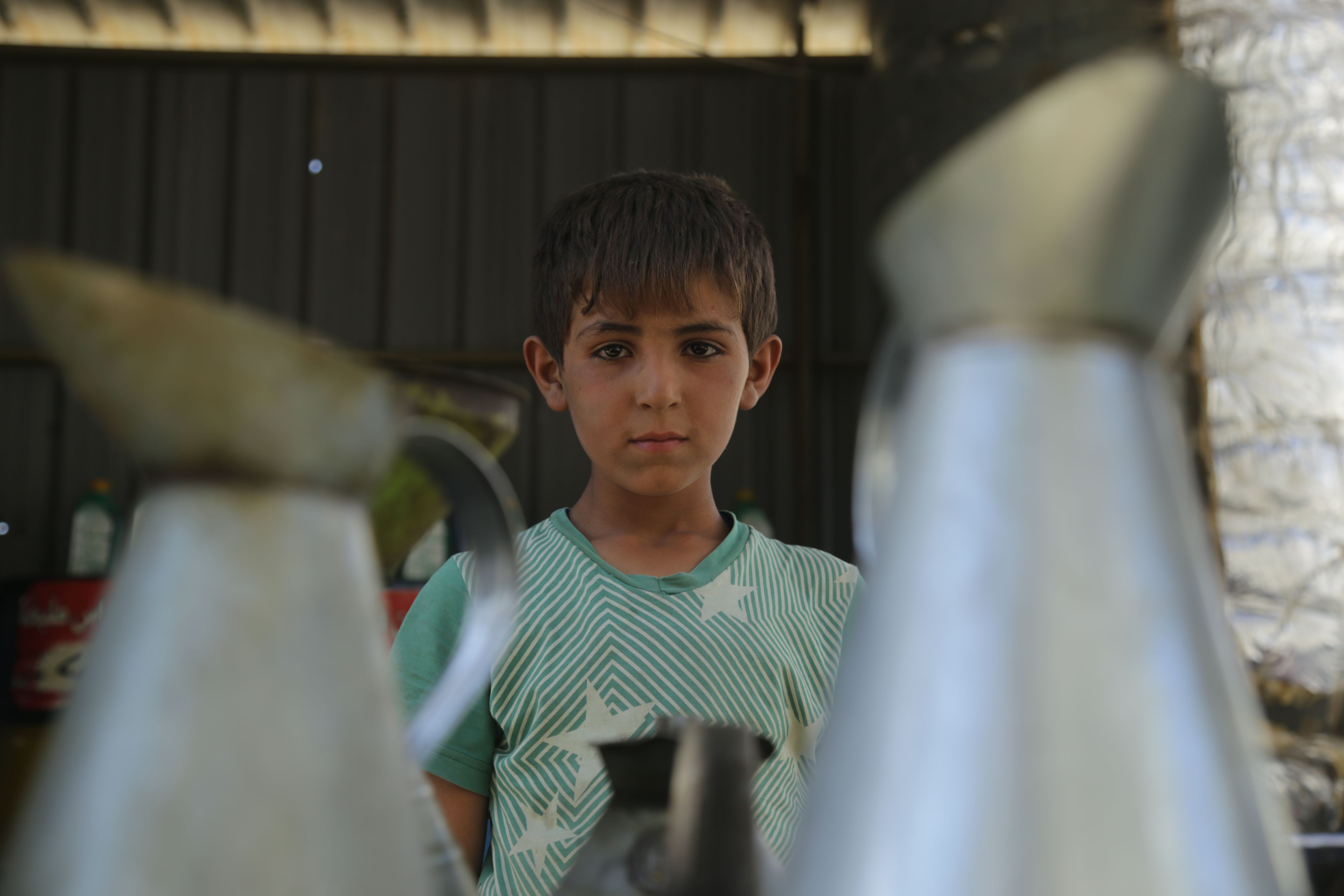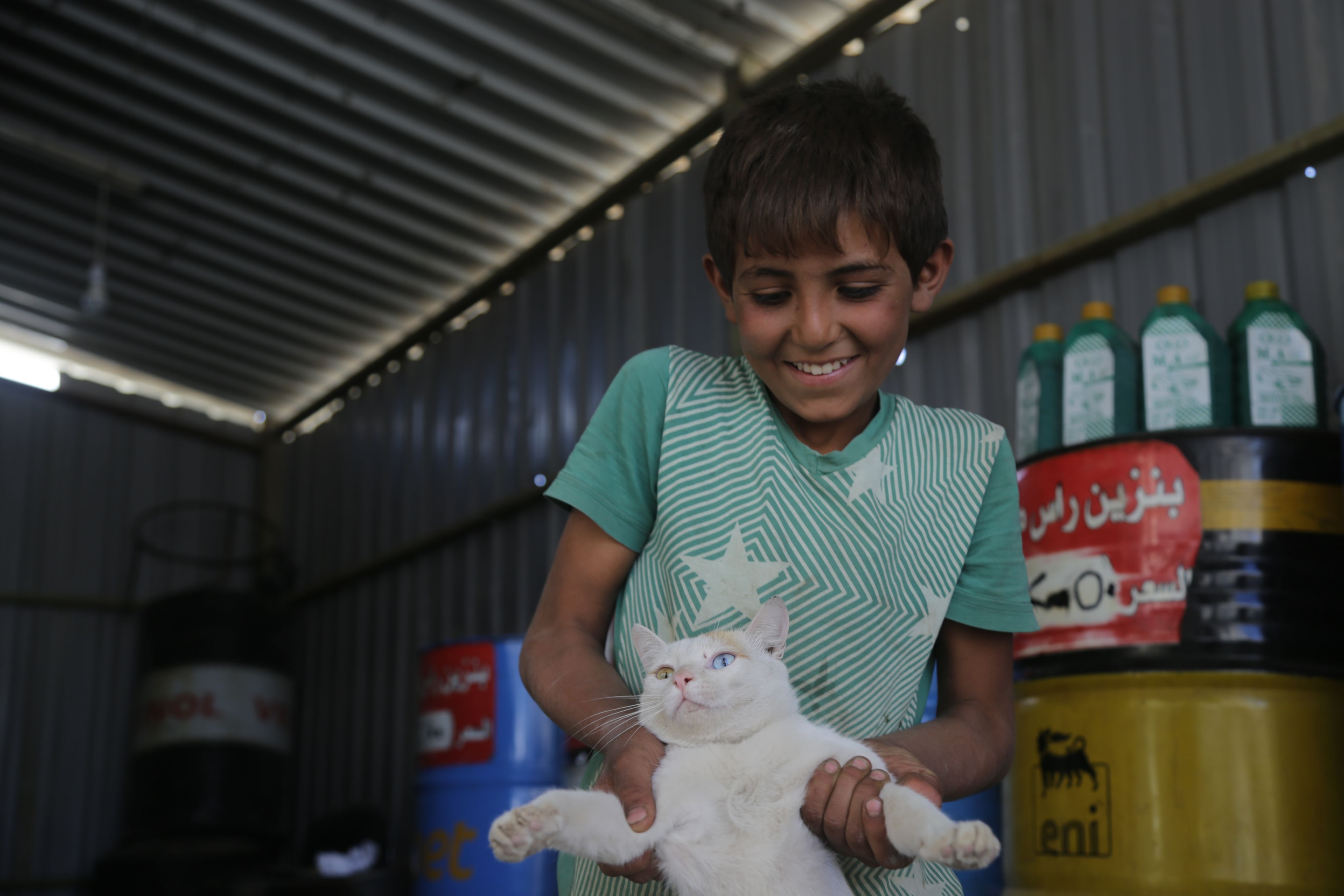 Another 11-year-old child we met, also named Mohammed, sells diesel. He no longer goes to school because he is busy working and securing food for his family. The child said he is annoyed by the fuel smell he cannot get off his hands and clothes, besides the heavyweight that exhausts his tender body.

Mohammed loves cats and animals. His caring nature and innocent feelings towards animals prompted him to dream of becoming a veterinarian. Now, he dreams of earning money.
The danger of child labor is not only about ending those children's dreams, many professions physically harm them at such an early age.

Mustafa:
Teacher to be, Now: carpenter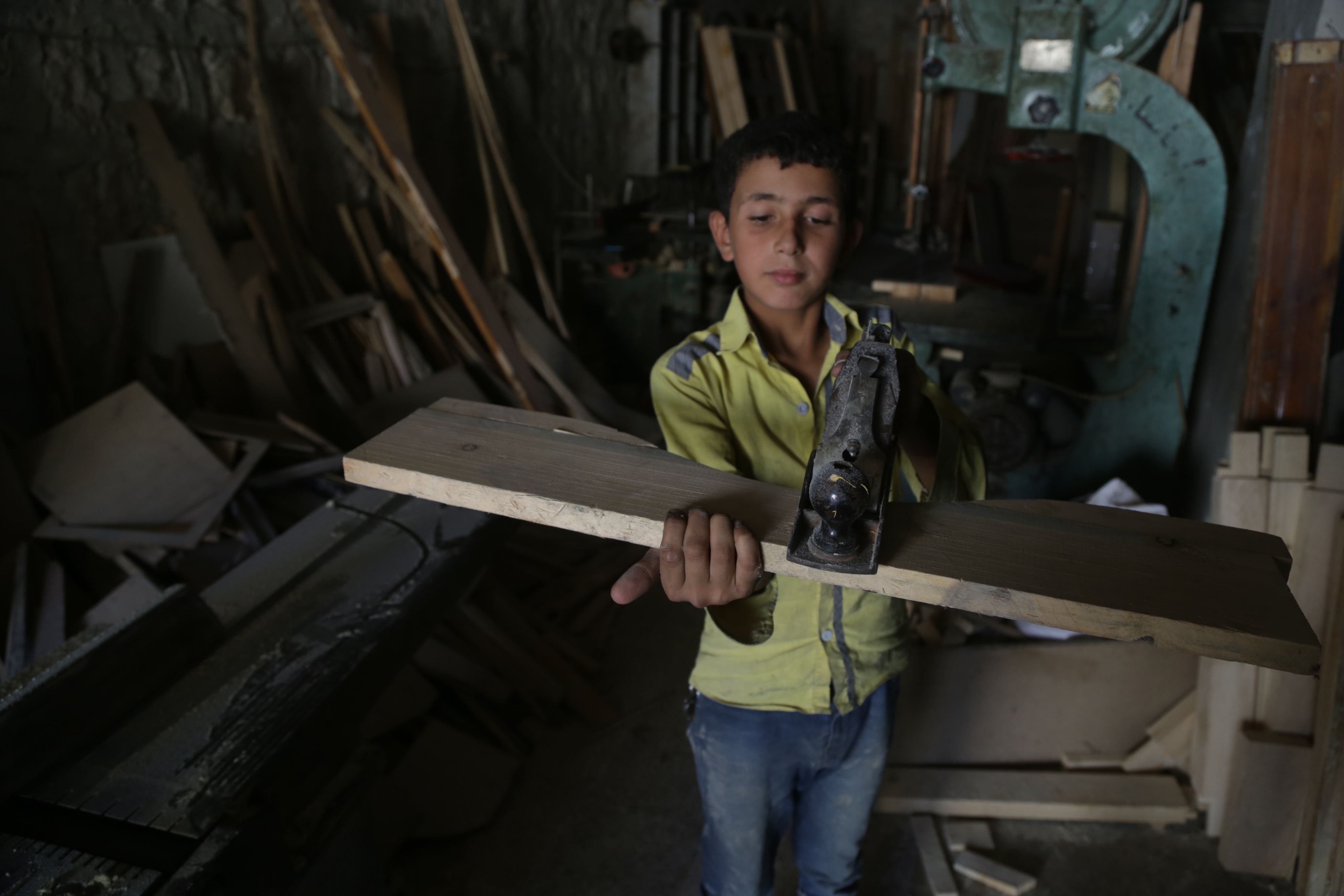 In the same district where Mohammed, the diesel seller, lives, another childhood dream of Mustafa Hajj Ibrahim has gone with the wind. Once he dreamed of becoming a school teacher, he only dreams of becoming a professional carpenter to make wooden doors.
In fact, Mustafa has another dream that he strives every day to achieve; a dream that is rather different from those of his peers and even us adults; he dreams of keeping his fingers intact and not losing them while using a wood-cutting machine.

In his innocent voice, he says that he is afraid to make any mistake that might cut off his fingers instead of his wood.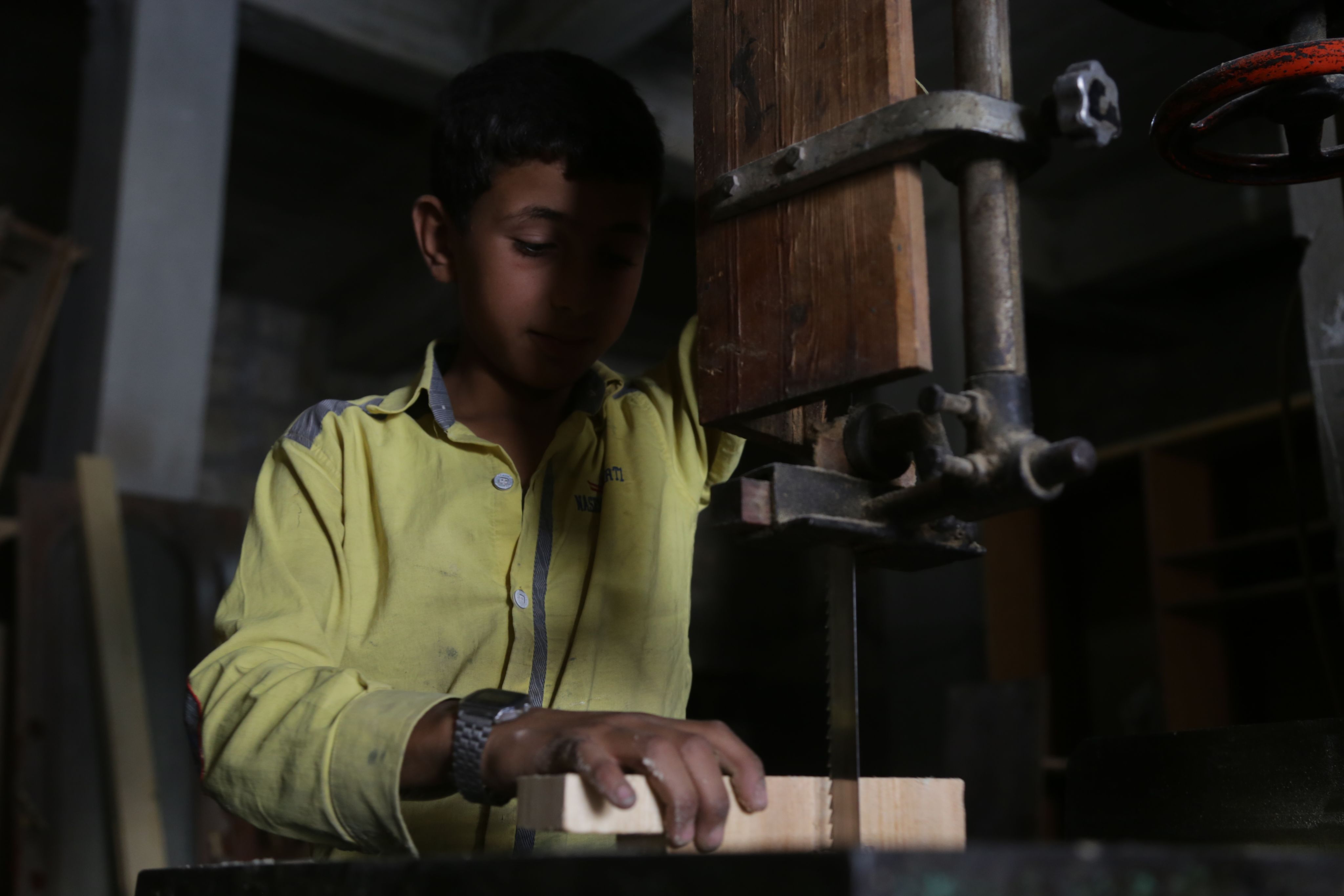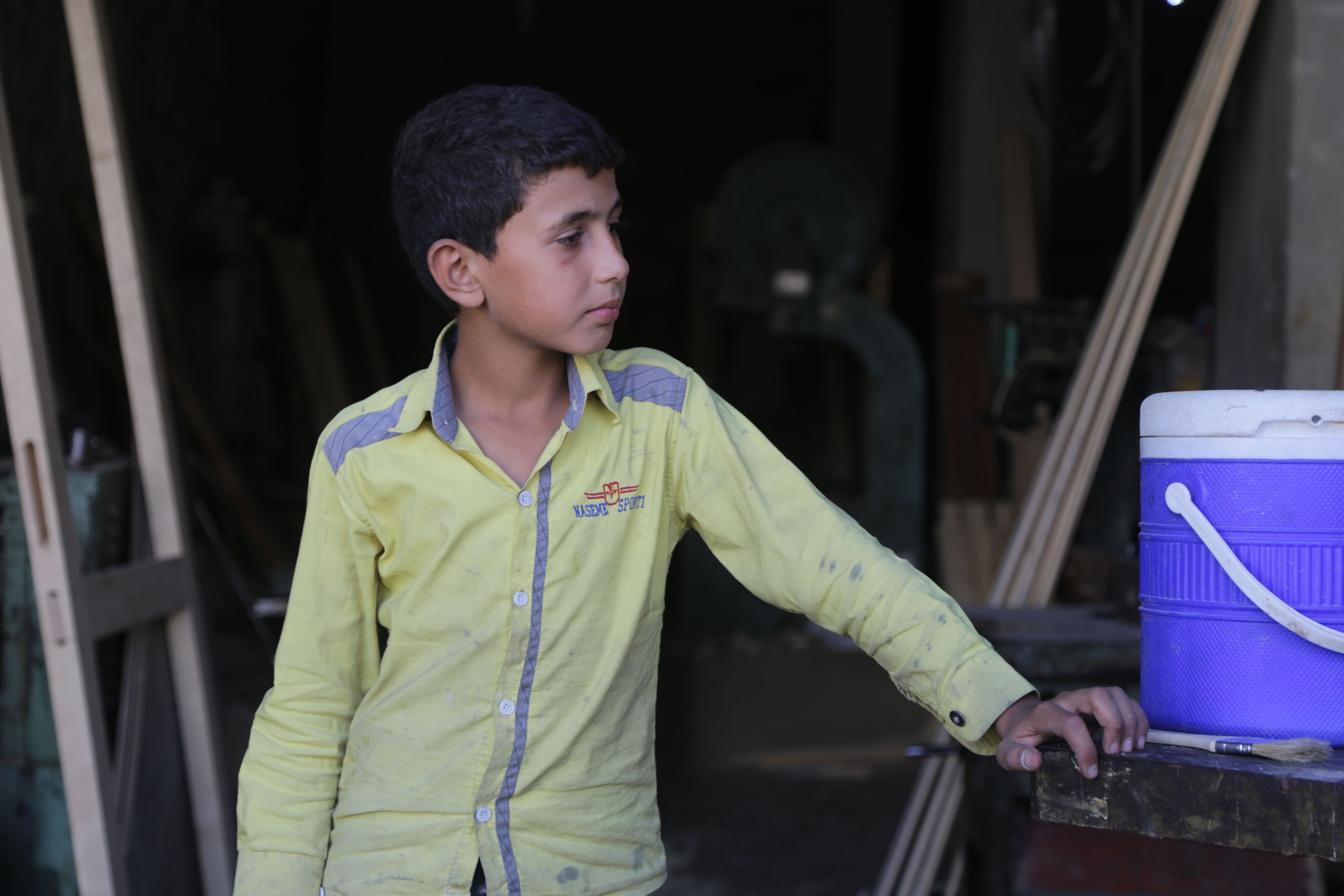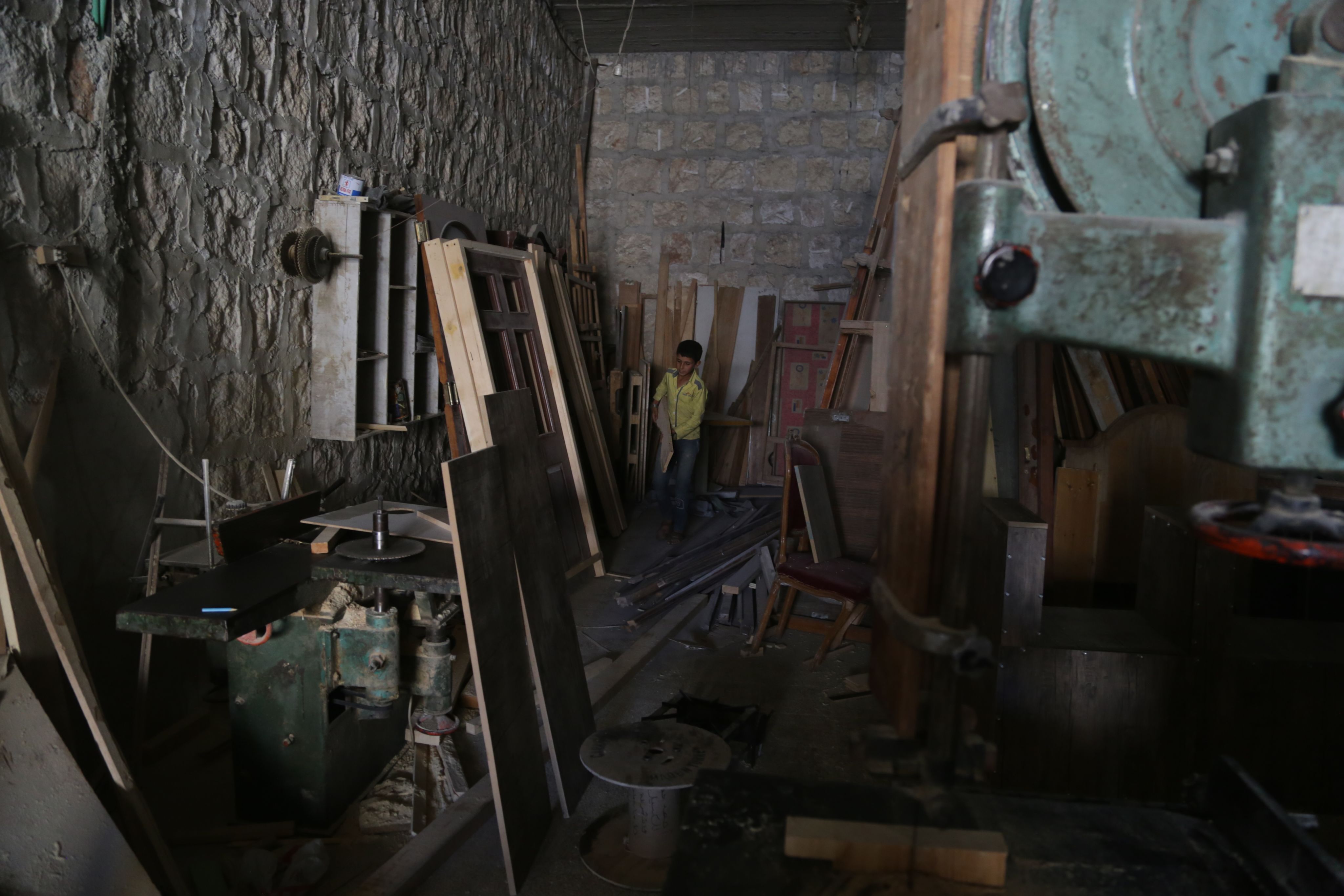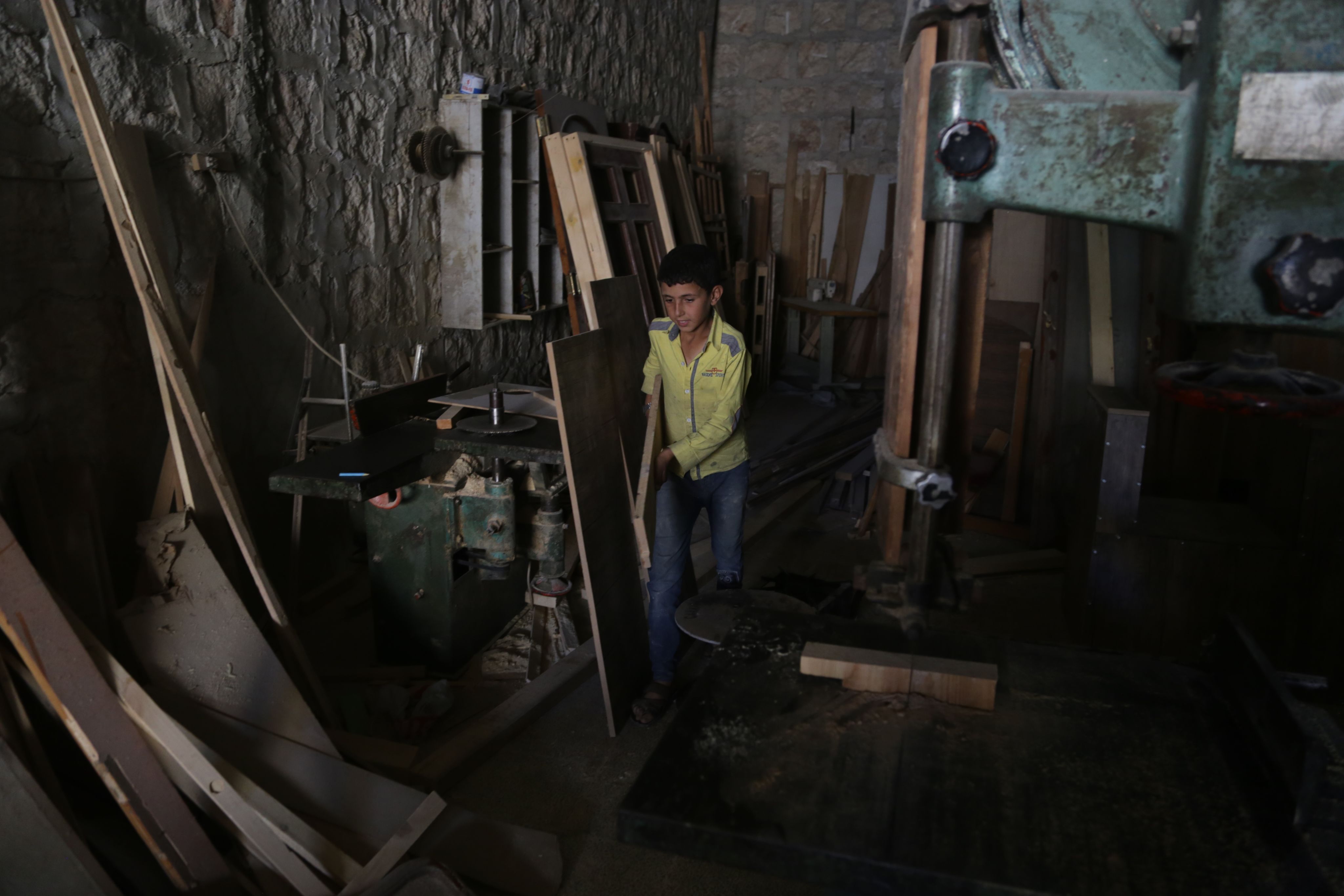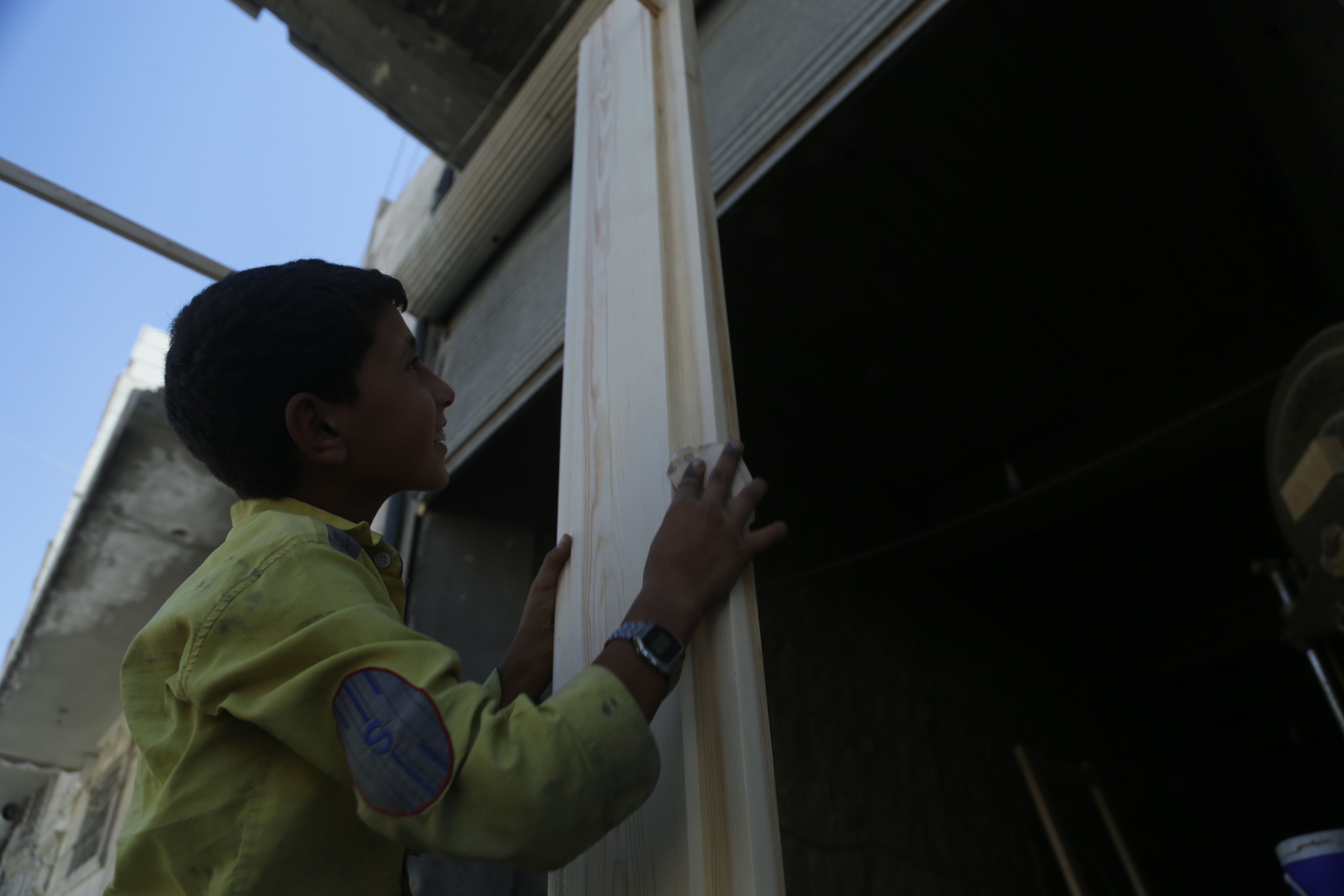 Hussein
Teacher To Be, Now Blacksmith now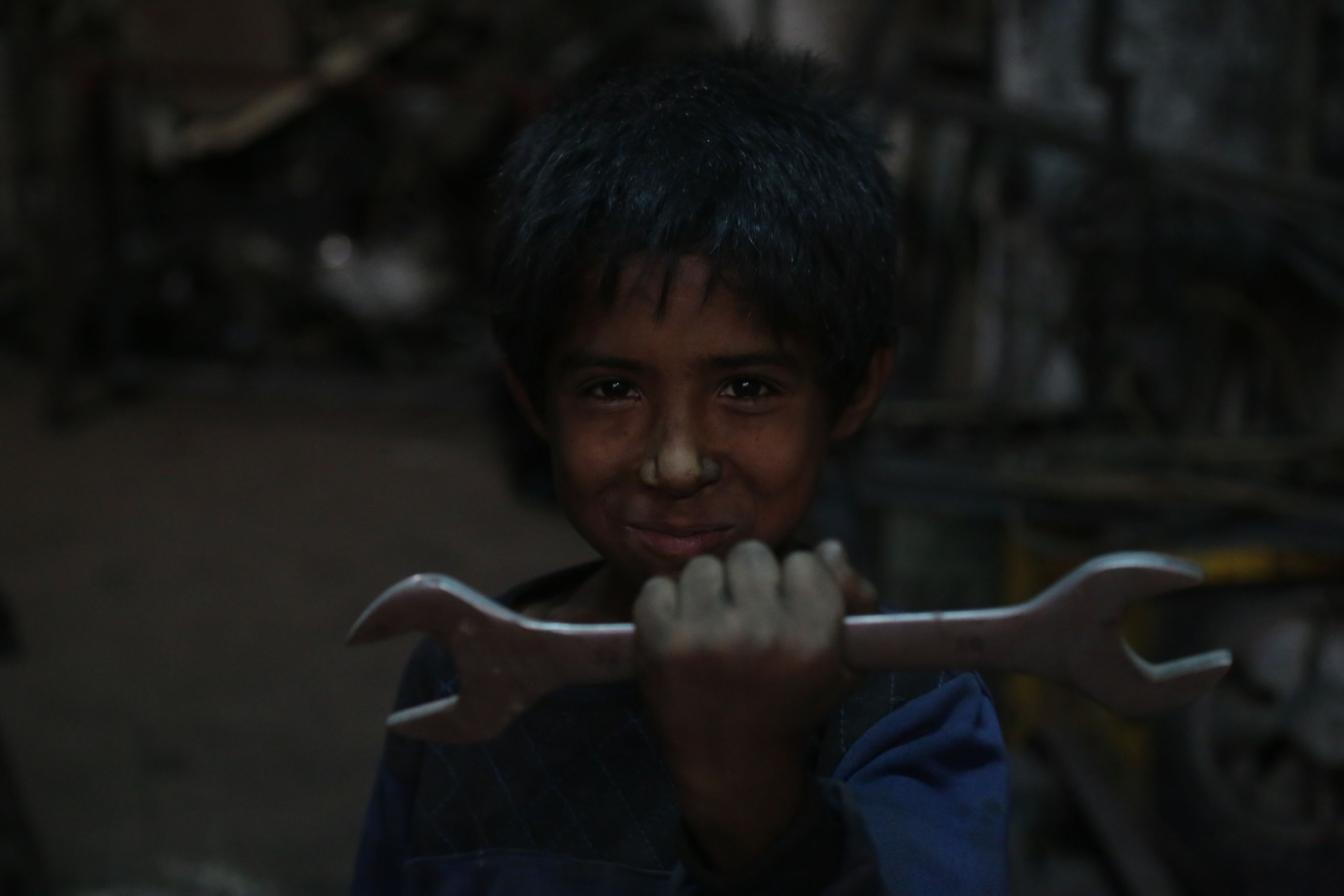 In dim lights, surrounded by scattered pieces of iron, Mohammed Al-Hussein recounts his daily routine; unfamiliar to a child of his age.
Mohammed's day starts at six in the morning. He continues to work until sunset and sometimes until nine o'clock in the evening. Mohammed uses a number of machines used by blacksmiths, including an angle grinder he called a "rocket".
The sad look in Mohammed's eyes summarizes his lost dream: a blacksmith who wanted to become a teacher.
Watch the video of Mohammed Al-Hussein here
Hundreds and thousands of kilometers away from these five children, Syrian children in host countries are experiencing similar suffering, with their becoming the head of the family and bearing the responsibility of securing a livelihood.
In August 2021, the UNICEF announced that there are nearly 10,000 Syrian refugee children who are either unaccompanied or separated.
Given the fragile situation of these children, many of them are vulnerable to exploitation, including child labour.
Moreover, at least 800,000 Syrian children in host countries remain out of school. For example, close to half of all Syrian refugee children in Jordan are now the joint or sole family breadwinners.