Syrian Children Become Victims of Sexual Harassment
Child sexual abuse victims are stuck between stigma and fragile protective laws

Inside a semi-worn-out tent, Abu Mohammed sat to prepare his coffee. Despite displacement, he did not give up on his habit of having coffee at noon. Suddenly, his eight-year-old son came in with a yellowish, pallid face and trembling body.

At that moment, Abu Mohammed felt confused. Was the child shivering with cold? After all, February's harsh winds are merciless. Or did something bad happen to him?
"Within five minutes, my son went to the toilet 10 times in a row," said the father.

"Are you ok? Something bad happened to you?" asked the father. The child did not utter a word. "He was afraid of me. I asked him to sit next to me and tell me what happened to him, but he refused," explained the father. As the father insisted, the child began to narrate the details of what had happened.
The eight-year-old boy, in his fourth grade, told his father about the assault that happened to him in the tent school located a few tents away in the Sajo Camp, near the city of Azaz, close to the northern Syrian-Turkish borders. "The camp is under the control of the Syrian Interim Government". What the child had related was different and "shocking". "That assault took place earlier 2022."
Two Teenagers Raped My 8-Year-Old Son
During the school break, two teenagers, aged sixteen and seventeen years old, approached the child. They lured him to a garden far from the camp, promising him to play with their bicycles, if he accompanies them.

The boy agreed, put his schoolbag on his back, got on the bike, and the three sped away from the little boy's school and out of sight.
There, they raped the child.

The child told his father how they tried, at first, to convince him of what they were going to do. He related how afraid he was and how he tried to escape in vain.

One of them threw the kid on the ground and tightened his grip on his hands so that he would not move while his friend raped him. As soon as he finished, the other handcuffed the child to let the other teenage rape the kid too.

It didn't take long for a father to find out who had abused his child. It was not common for someone to own a bicycle in a camp.

"When my son told me what happened in detail, I intended to kill them. Then, I calmed down and did not commit a crime," said the father, "They confessed to everything they did and have been in prison for months. They were sentenced for 7 years in prison."
At that time, the father resorted to the police station in the area, which in turn continued the investigations.

Although the perpetrators are imprisoned now, the father found himself facing a more complex issue; "stigma". As the news of his child's rape spread in the camp, the boy began to be harassed.

In a society that punishes the victim, stigma is one of the thorniest issues facing families whose children are subjected to sexual harassment or assault. Amid an ongoing 11-year-long displacement crisis, families and local authorities are mostly silent about stories of sexual harassment and abuse.


By Our Departure, I Saved My child, His and My Dignity

To escape that, the family moved to another camp, leaving the one they spent 7 years in. "I wanted to preserve my child. Every time he left the tent, he would come back crying because of hearing bad words and bullying," said the father, "By our departure, I saved my child, and preserved his dignity and mine."

Despite moving to another camp, the father has not yet sent his child to school out of fear, especially as he blames the school teacher for everything that happened to his son. He thinks the teacher should have checked the child's absence during school hours.

Currently, Abu Mohammed is waiting for his child to recover from the state of stupor he can feel whenever he asks him a question. "When I ask him about something, he answers me late," said the father, "He is afraid of going to school again because of what happened to him there."

He and his wife tried to present their child to a humanitarian organization in the hope of offering him psychological treatment. Moreover, the child developed physical problems such as involuntary urination and abdominal pain, added the victim's father.

Like 6.2 million Syrians, Abu Mohammed and his family live in a camp for the displaced inside Syria. The United Nations High Commissioner for Refugees (UNHCR) statistics estimate that 2.5 million of the displaced are children. Many of these camps lack basic services and are overcrowded with tents right next to each other.
An Unknown Man Rapes a 3-Year-Old Boy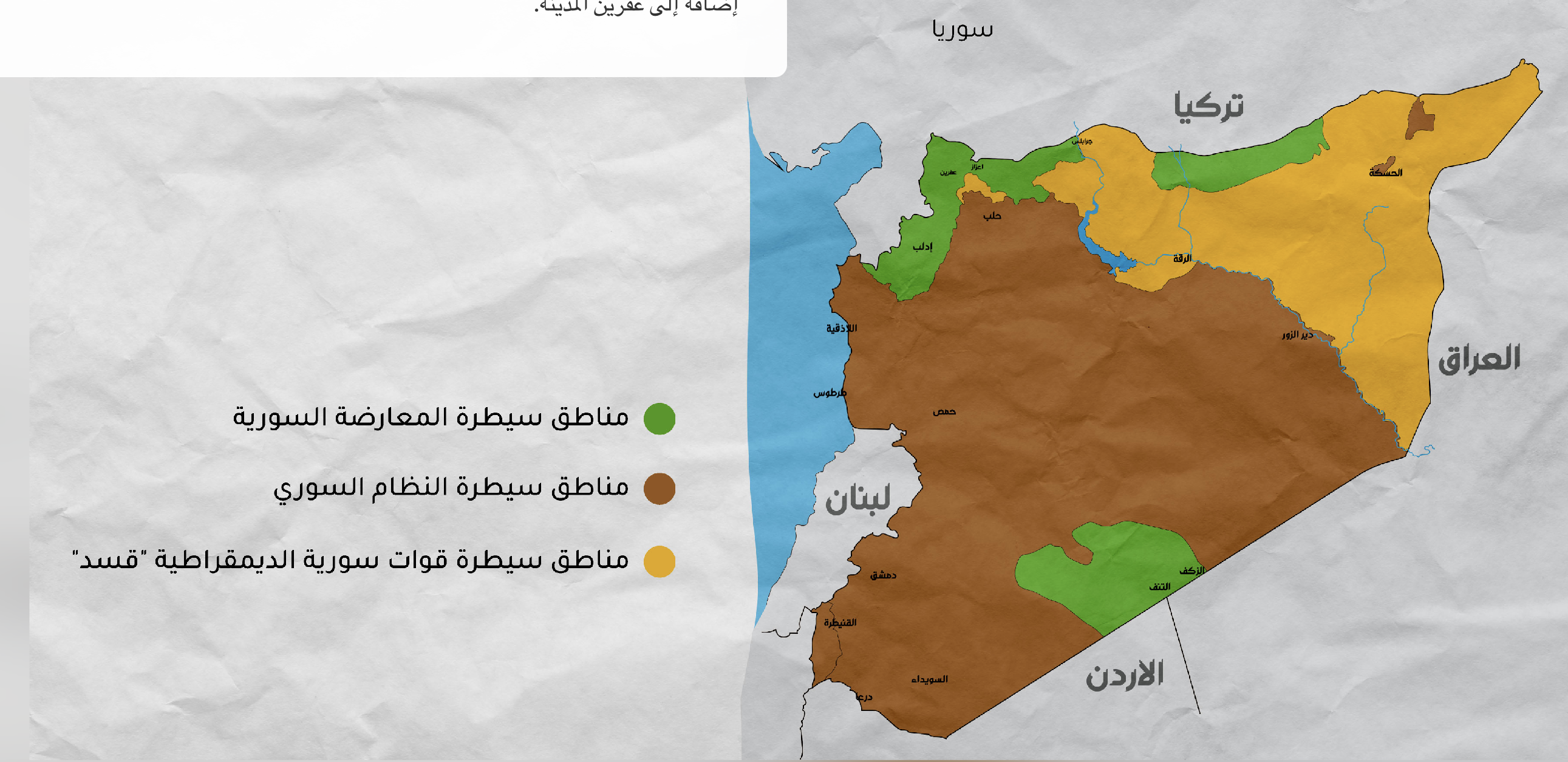 In the opposition-controlled areas in northern Syria, there are over 1,400 camps, inhabited by about 321,000 families. The areas are under the authority of the Turkish-backed Syrian Interim Government in northern Syria, and the Salvation Government in the Hay'at Tahrir al-Sham-controlled areas in northwestern Syria. Most of these camps are random, and unorganized, with almost only a few meters between one tent and another, which deprives residents of privacy. Samira, a child social protection worker with a humanitarian organization, sees this as a major factor that makes children vulnerable to rape and other forms of sexual violence.

Samira, a pseudonym she requested to keep rape survivors' confidentiality, works in the areas of Afrin and its countryside, Azaz and its countryside, Marea, Jarablus, Jindires, and the city of Afrin.
In the Sajo camp in Azaz, Samira found herself holding the hand of a 3-year-old child, helping him to overcome the assault he had been exposed to. Early in 2021, a 16-year-old boy raped the kid in the tent next to the child's tent.

At that time, the child's mother caught their neighbor while he was raping her child. The kid was bleeding and suffered from cracks and deep wounds.
"The scene was horrific and the child almost died," said Samira. "The mother rushed to help her child. The perpetrator was handed over to the security and his family was displaced to another area."

Fear of Leaving Tents at Night

When the sun goes down, the displaced families prefer not to allow their children to go out. Families who used to live in neighborhoods where everyone knows each other lost their social safety networks upon moving to camps where people from different backgrounds and strange families live under difficult living conditions imposed on them by displacement.
Ahmed is one of the children who were harassed. He was on his way to a grocery store in their camp.
Samira has also followed up on Ahmed's case. The 14-year-old boy was on his way to buy household stuff when an eighteen-year-old got in his way. The child's physical injury was not significant, because the rape was not fully completed.

Although the risk mostly comes from strangers, it may seem shocking when a perpetrator is a relative or a close person, living with them in the tent. That is what happened to Saeed, a 7-year-old boy, whom Samira met at Al-Atarib Hospital when his mother helped him there. The offender was his aunt's husband who escaped after the matter was exposed.
"He was threatening him every time he raped him that if he disclosed the matter, he would throw him in a deep hole and leave him to die," explained Samira, "Indeed, the child chose to remain silent for fear."

However, the rape effect was evident on his body, with cracks, abdominal pain, and inability to sit well. They were enough to reveal what was happening. While the child was rescued, the perpetrator managed to escape.

Rape Punishment in Opposition-Controlled Areas



The opposition-controlled areas in Syria follow the Syrian Penal Code (No. 148), said Mahmoud al-Hadi, head of the Free Lawyers Syndicate in northern Syria.

The lawyer confirmed that they always hear about cases of child sexual harassment and rape. He believes that war and displacement to unsuitable random camps are behind such cases, in addition to child labor to support their families because of their displacement or following their breadwinner's death in the war.

The lawyer explained that most of these crimes against children, both male and female, are reported by the parents, got discovered by chance by the police, or through medical authorities or care homes and kindergartens.

"The report is then transferred to the juvenile courts in northern Syria," Al-Hadi continued, "There, they avoid public trials to preserve the child's confidentiality. Interrogation takes place in secret, with the guardian and the lawyer attending."
Al-Hadi points out that such cases are advocated by lawyers for free.

Men Are Victims Too

In a report issued in July 2021, the United Nations called for "the need to criminalize rape using a broader definition of rape than is currently used, covering all persons". The report says that while women represent the largest proportion of victims of rape, men are also victims.

According to the Syrian law, rape or "an act of indecency" is "an act that is carried out by a man against a female only". This definition of rape does not count the crime of rape that falls on male children.

Families Flee Stigma and Refuse to Resort to the Law

Nabil*, a 12-year-old boy, used to work in a repair shop in Idlib's countryside. His family's dire conditions forced him to drop out and start working. There, he was assaulted by fellow mechanics.
Having followed this case, Kinanah, a protection officer, said that they needed to move the family to another location for their safety.

Child labor is one of the problems facing Syrian society. Over the past ten years, war and displacement forced many families to send their children to work because of poverty or the absence of breadwinners such as the father. Save the Children estimates that 2.4 million children are out of school and another 1.6 million children are at risk of dropping out. This can constitute a new addition to the labor market, making them vulnerable to risks such as rape, harassment, or work injuries.
Living in a War Zone

Kinanah*, who has been working in social protection for the past 6 years, specializing in gender-based violence and child protection, believes that the best solution in such cases is to transfer the victim's family to another camp. "There is still a shortcoming in legal aspect in the opposition-controlled areas," she said, "It is enough for a person to threatens others citing a mediator's name, and thus the case is closed. This makes us feel helpless and content with moving the child and his family to another camp."

The fifty-year-old woman co-established the so-called friendly spaces, which play a role in detecting such cases of rape. These spaces' mission is to build trust with the residents and help them treat victims of sexual violence, and most importantly is to conduct that confidentially.

The cases they received were not limited to harassment against girls, but also against male children. Within 4 months, Kinanah dealt with 3 cases of harassment and assault. She thinks that disclosure comes after trust-building and the presence of people capable of dealing with these cases, providing the services they need, and psychological support for parents and children.

In the child protection program, psychological support sessions are provided on a permanent basis. This entails distributing painting copybooks and asking the child to paint parts of his body that no one should touch, and how to act in case they are exposed to such a thing.

A Rapist Father, a Victim Son, a Savior Aunt

The closer the victim-rapist relationship, the more complex the case. Amer*, a social protection worker, found himself forced to deal with such a case.
Amer, a young man who was displaced from the city of Ghouta in Damascus, started working in this field in 2013. Behind him, he left a destroyed house in Ghouta and abandoned his job in civil engineering, to work in child social protection.

In two years, Amer and his team followed up on 15 cases, including 4 high-risk cases that require multiple health, psychological, legal, care, and accommodation services. The most difficult one was that of a father who raped his child, he said.
The most difficult part about it was the need to not disclose the case for fear of stigma, but the case of the child Amer followed up on was revealed thanks to the aunt's intervention.

At first, it was not clear who the perpetrator was. There were three brothers, the eldest of whom, who is 13 years old, got complaints from the school for his misbehavior.
The case was indirectly disclosed when the school repeatedly complained to the protection team, as part of the continuous coordination with education. Teachers complained about him for persistently harassing and abusing children. "After case evaluation, it was found that he was the one who was been abused. He suffers from involuntary urination and defecation, as a result of the assault and rape," said Amer, "Over time, it became clear that the perpetrator was his father."

It was the aunt who revealed the truth about what happened.

The victim's two brothers, aged 5 and 9, were witnesses to the assaults, but they were not subjected to direct assault. "This is what we call sexual abuse," said Amer, "This includes exposing the children to any indecent activity, such as seeing someone having sex, speaking to him in certain sexually suggestive statements or words, or seeing erotic pictures. All this is considered sexual abuse."

How Were These Cases Detected? Why Boy in Particular?

Dr. Noha*, a humanitarian worker, has also followed cases of male children subjected to sexual violence, documenting 25 to 30 cases in the organization she works in for a year and a half so far.
Noha's project covered areas of Al-Atarib, Afrin, Kafr Daryan, Jisr al-Shughur, the city of Idlib city, Hazano, and Bab al-Hawa. She worked in two directions, the first is to encourage survivors to disclose what they have been through, and the second is to provide psychological and physical support to survivors of rape.

One of the ways they used to encourage disclosure was to stage a play entitled "The Innocent Touch and the Malicious Touch", and another called "The Sheep and the Wolf", in addition to sharing drawings with the children.

Indeed, after such plays and games, a number of children revealed they were exposed to similar issues. "Within 3 months, we received 10 cases," she said, "We also received information about cases tried to reach, but the parents refused for fear of the surrounding community's reaction and preferred to remain silent."

What Puts a Child at Risk of Rape?

Some of the cases followed up on by Noha were of children sent by their families to the mountain camps to collect firewood. They know it is dangerous for girls and women, and believed that sending male children would reduce the risks.

However, what happens is otherwise. The place where children search for firewood is secluded, and that put them at great risk of sexual exploitation.

Cases at the Widows' Camps!

The widows' camps are home to tens of thousands of widows and single women - including divorcees and those who have lost their children too. They live in 28 easily accessible camps across northwest Syria.
Access to such camps is restricted to local NGOs, who have been able to secure them. There, boys are required to leave the camps once they reach the age of 11-13 years.

Under such conditions, male children are forced to bid their mothers farewell, though they are not yet twelve years old since they have reached puberty, according to camp officials. The largest group of them are placed in orphanages, while others go out directly to the labor market directly or being recruited, Noha explained.

There is no law regulating this except that these children are now adults, and they should not remain in a camp dedicated to widowed women.
One of these orphanages was shut down due to the lack of funding during the outbreak of the Covid-19 pandemic. Children were sent back to their mothers. "Upon their return, cases of sexual harassment and violence had been revealed," said Noha, "We interviewed 5 children, each of whom had a story of sexual violence in that orphanage."

There are neither official nor unofficial statistics on children who have been sexually abused or harassed. It is something the local authorities on both sides - the opposition-controlled and Assad regime's areas - avoid talking about. This makes confronting these assaults difficult for organizations or authorities concerned with these matters.

In the Assad regime-controlled areas - specifically Damascus, cases of sexual harassment and rape are widespread, yet other challenges hinder declaring and confronting them.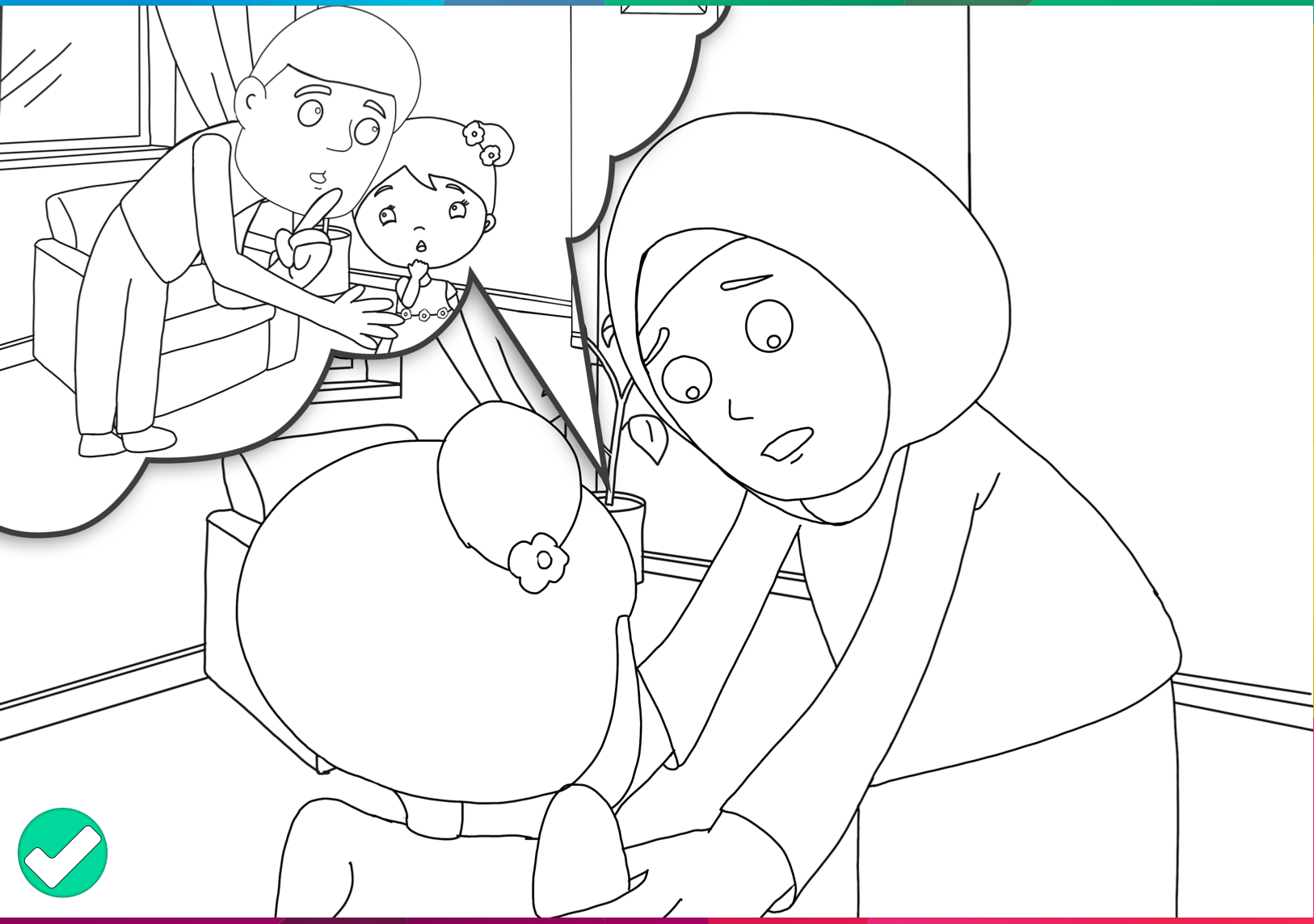 التحقيق تم إنجازه بدعم من أريج